A pair of Black trainers are a staple in everybody's sneaker collection, an everyday colour that is universally worn everywhere and is easily matchable in every outfit. A Black trainer can go with pretty much anything, whether it be all black, or matched with a different colour, it works. 
At Represent, we have took some of our iconic silhouettes and ensure that there is a Black colourway for each of them, so you can easily wear with a full Rep fit.
In this blog we will discuss our favourite Black trainers that we have to offer, and give you some tips of how and what to style them with.
Alpha Low - Black
The Alpha Low in Black is probably the easiest shoe to pair with pretty much any outfit, you can easily dress it up for a night out, or you can pair it with some cargos for a day out shopping.
The Alphas are hand made in Portugal, using the finest materials to give it that luxury sneakers feeling. The chunky white custom sole & thick white laces gives it that perfect luxury look.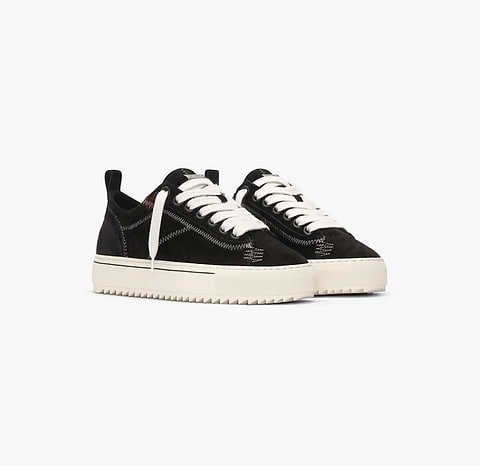 We think these are the best black trainers to be paired with some of our carpenter jeans and a black hoodie. This gives you a full black outfit that is perfect for a night out, combining street style with smart wear.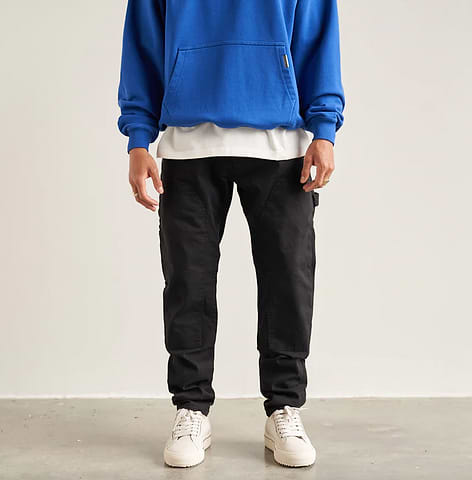 Reptor Low - Black/Vintage White
Our Reptor Low's have evolved over the last few years to become one of our top selling models, with the Black & Vintage White colourway one of the more popular ones. The sneaker takes inspiration from classic sneaker silhouettes, but with more luxury leathers and suedes added to ensure you still maintain that luxury look and feel. The black leathers on the upper spell out the "Rep" branding on both sides of the sneaker.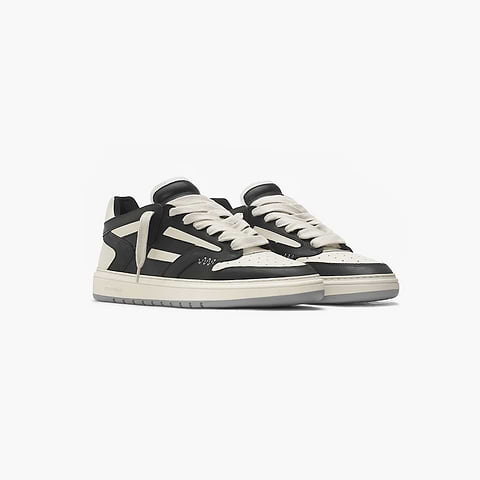 We think these are the best black trainers to pair with some of our Cargo shorts in Black and our Blank vintage black t-shirt. This gives you a full black look but for those summer nights, whilst maintaining more of a skater fit, just as the sneaker was meant to be styled.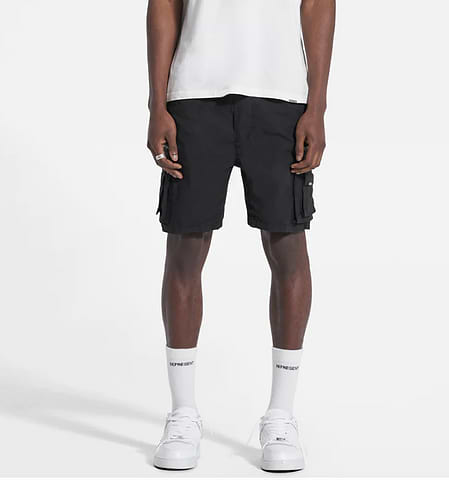 Apex - Black
The Apex was designed by blending the premium nature of a low top skate sneaker with the sporty flair of a basketball shoe. The chunky low top is universally filling and the best sneakers made for everyday wear. This sneaker comes in an all black colourway, which is a favourite amongst sneaker enthusiasts as it looks great with a pair of black pants. Try pairing with one of our black graphic t-shirts or a cobalt blue hoodie.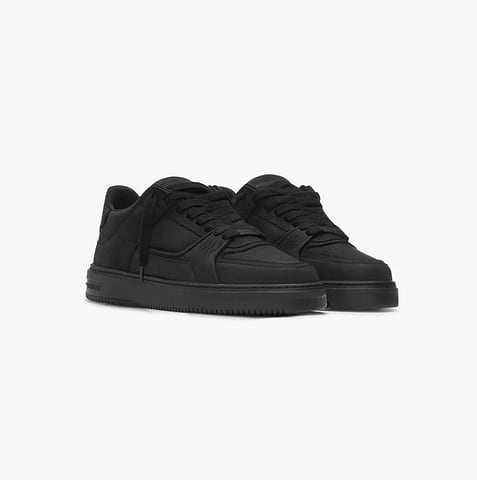 We think this sneaker is best paired with some of our 247 Mission Pants in Black, and the matching 247 Mission Jacket. These pieces came as part of our 247 Winter collection, and are both made for the outdoors, using premium splash proof materials and premium nylons.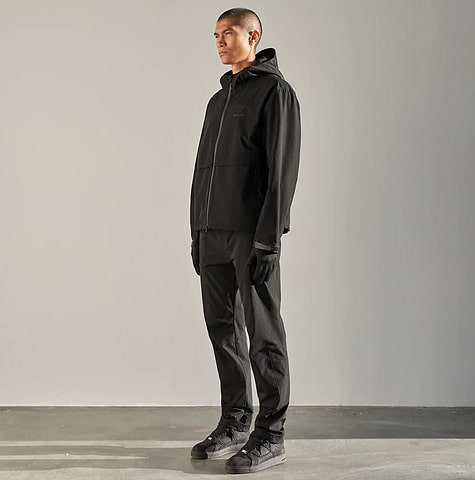 Harrier - Black
The harrier is a runner silhouette reimagined in a luxury form named after a bird of prey, and the jet. An upper mixed with matte tumbled leather, flat nylon and suede, our first everyday runner doesn't skip on the quality materials. As one of our comfiest sneakers come in 2 black colours, a Black & White silhouette and an all Black silhouette.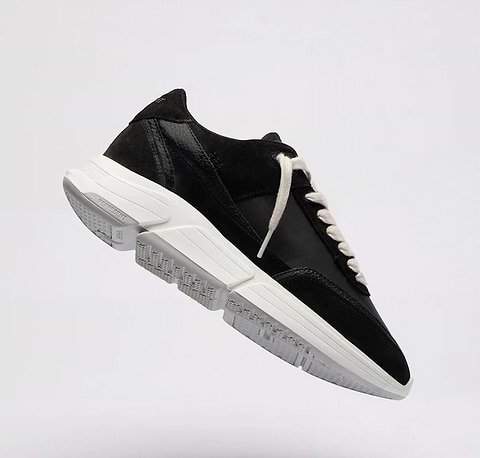 Our Harriers are best sneaker to be paired with our 247 Pants in black, and one of our Owners Club t-shirts in Black too. This becomes a perfect everyday outfit, to wear to the office, or to wear chilling round the house.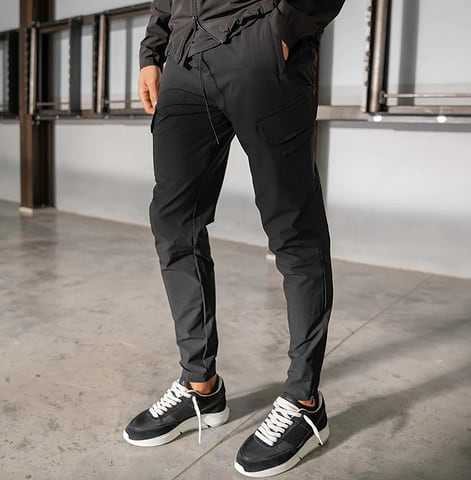 Core Sneaker - Black
Introducing the core range into the Represent mainline. A curated capsule, formulated with everyday purpose & comfort in mind. The core sneaker is created to suit a hybrid of occasions and fits. Perfect for casual and formal wear. The sneaker features a 100% tumbled leather upper, with a deep-set rubber cup sole. Represent branding finished to the heel & double tongue. 
The Core Sneaker in Black is one of the easiest sneakers to pair with any outfit, but we would recommend pairing it with some of our other Core products, our Core Pants and & Core t-shirt in Black create that perfect smart silhouette that the core range looks to offer.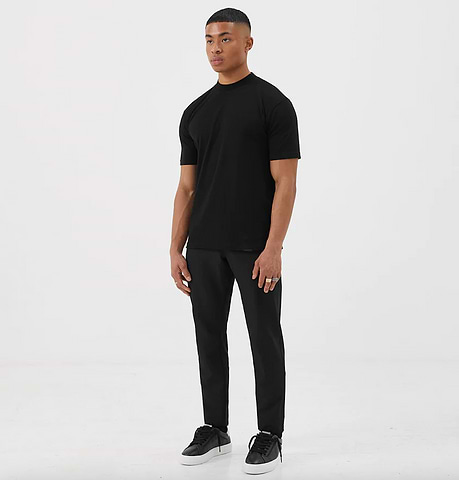 Viper - Triple Black
The Viper in Triple Black is the result of 2+ years of in-house development. It is Represent's first technical fashion focused runner; featuring a ballistic nylon and tumbled leather upper with embroidered fang details, it is a silhouette so striking that it lives up to its name. The Viper has a three-piece custom mould translucent mixed rubber sole with Represent initial branding.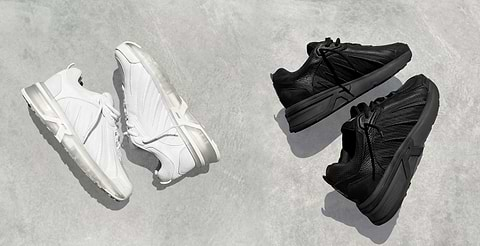 We would recommend pairing these black sneakers with some of our 247 mission pants, and our 247 mission jacket both in black, this gives you that full technical look with a luxury feel. If you're looking for a piece to pair any of your trainers with, then be sure to explore our range of graphic tees. 
So these are our top black sneakers for men that we have to offer, all of these sneakers offer a different look and feel for your outfits, and we have the perfect outfit to go with every single one, our goal is to make your whole wardrobe Represent.