The best graphic t-shirts are made to stand out, and a way to express yourself wether that be style, or something you like, then project your personality onto your clothes. Classic graphic t-shirts express things such as your favourite brand, the bands you listen to, favourite film or a political statement. A graphic t-shirt is a streetwear staple in this day and age.
Vintage graphic's have become more popular recently, with people rocking old school album covers or characters from old films on their t-shirts as a way of expressing their love for the past. 
In this blog, we will be looking at all the graphic t-shirts that we have created and what would suit you best. Graphics are a huge part of what we have built over the years at Represent, the iconic prints and graphics have been best sellers for a long while, and every new graphic we drop seems to sell out instantly. We will be showcasing 4 of our favourite graphics and who they are best for.
Best Vintage Graphic Tee
Introducing the Megadeath Tee, the best vintage graphic t-shirt we have to offer. This t-shirt is a collaboration with one of the biggest American rock bands, and it features their iconic "`Vic goes to Hell" graphic on the front and back of the t-shirt. The 250gsm short sleeve t-shirt comes in a vintage grey colour to ensure the graphic stands out, with vintage detailing and the Represent logo bar at the hem.
This t-shirt would go perfectly with some dark denim and an overshirt for the colder weather. This is one of many of the vintage graphic t-shirts we have to offer, but we feel like this is the best graphic t-shirt you can get on the market.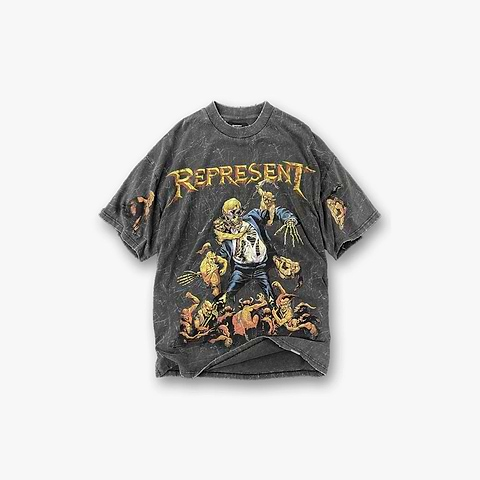 Best Selling Graphic Tee for Women
Showcasing the Thoroughbred t-shirt, which has fast become our bestselling graphic t-shirt for women. The graphic t-shirt features 3 big dogs and a Represent branded logo on the front of the t-shirt. The t-shirt comes in both a black colourway and a vintage white colour, and is an oversized fit in a medium weight cotton at 210gsm.
The t-shirt is very popular with our female customers and also our male ones too, for females we recommend paring this t-shirt with some of our White Apex and one of our Varsity Jackets. For men we recommend pairing this with some of our black cargo's.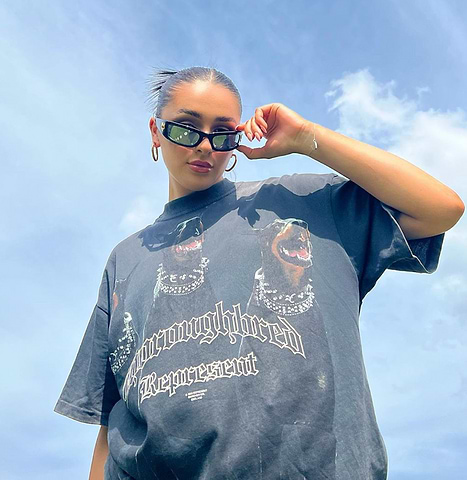 Best Selling Graphic Tee for Men
Introducing the "Only The Strong Survive" graphic t-shirt, our bestselling graphic t-shirt for men. This graphic t-shirt features a large great white shark graphic on the front, with some Represent branding and the "only the strong survive" font on it also. This oversized fit t-shirt comes in both a black and vintage white colourway and is pre dyed for that ultimate vintage graphic look. The t-shirt is a medium cotton in 210gsm and feature hand distressed detailing to the collar, to further emphasise the vintage look. We have recently released a new version of this t-shirt in our FW22 collection named the "Shark T-Shirt", which comes in a Black, White & Vintage Grey colourway.
We recommend pairing this graphic t-shirt with some of our cargo shorts, logo sock and white apex, giving you a full summer look.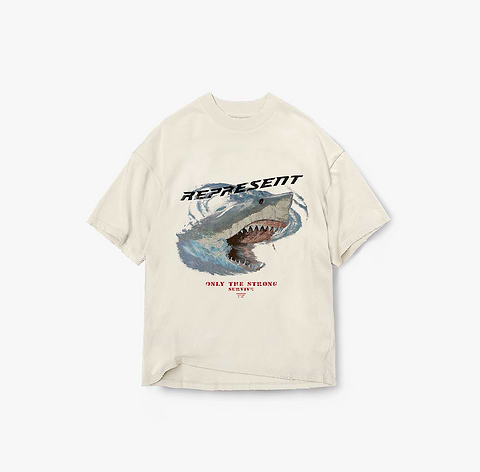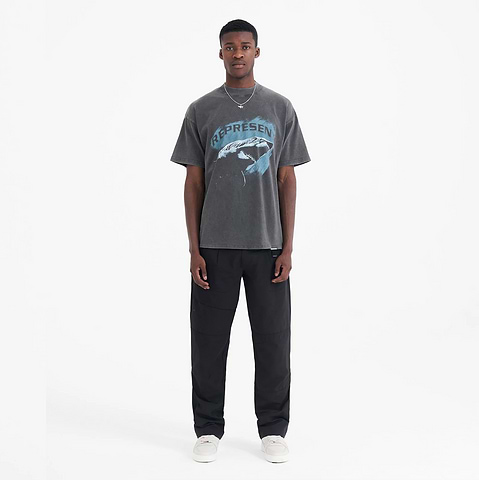 Best Minimalist Graphic Tee
Introducing our Owners' Club t-shirts, the best minimalist graphic tshirts on the market. The Owners' Club is one of our bestselling collections, a collection for core Represent customers to showcase the brand. The graphic features a large "Represent Owners' Club" lettering on the back and a small graphic to the chest area, with extra writing under the graphic reading "Powered by enthusiasts, for enthusiasts". The oversized t-shirt comes in a medium cotton in 210gsm, and in a wide range of colours to choose from. With the collection ever expanding it has become our bestselling collection to date.
These t-shirts can go with absolutely anything, given how many colourways we have released of this graphic. We would recommend pairing it with some of our other Owners' Club garments, featuring our Owners Club sweatpants, shorts & hoodies, for that full Owners' Club fit.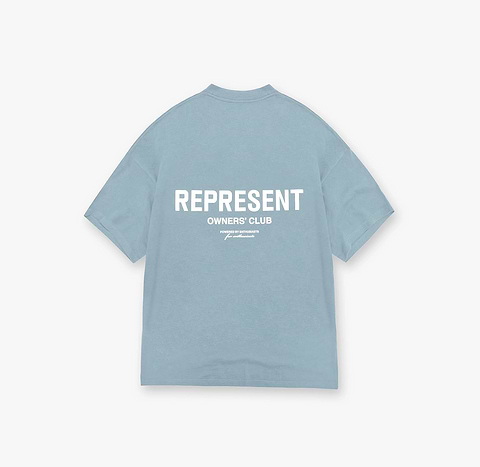 These are the 4 best graphic t-shirts we have to offer and what we think are the best ones you can buy today. We have plenty more graphic t-shirts that you can check out. If you're looking for something to layer with your graphic tee, then why not check out our varsity jackets. Have a look at our article on what to wear with a varsity jacket for styling tips. If you're looking for the perfect legwear for with a graphic t-shirt, then be sure to check out our range of carpenter jeans; a range of jeans with a classic silhouette and contemporary details.
If you like our graphic t-shirts, then you'll also love our graphic hoodies; be sure to explore the full range.
You can now buy overshirts through Klarna, Clearpay or any of the other payment methods we have on offer, so you can buy risk free. Customers in the UK get free returns on all products featured in this blog, so try out some of our overshirts today.
With free shipping UK-wide and a variety of discounts elsewhere on the site, there's never been a better time to upgrade your streetwear. This is a great time to shop at Represent.