Best Puffer Jackets For Men
Puffer Jackets have become a staple piece in every man's wardrobe. A winter favourite to keep you sheltered from the cold weather. A Puffer jacket has been a must-go-to item for savvy shoppers for decades, providing genuine warmth and insulation for those who wear them. Investing in a top-quality puffer jacket like ours then is well worth your money.
We've combined our signature active/casual ethos with water repellent and insulating technology, to create our own puffer jackets. Made in the iconic Represent streetwear style, we believe ours are the best men's puffer jackets available.
Our array of puffer jackets come mostly oversized, with a cropped body, giving you that perfect modern streetwear look. To provide complete warmth and insulation, each puffer jacket is packed with genuine duck-down or synthetic insulation.
A brief history of the first puffer jacket
The first puffer jacket was a down jacket, created in 1936 by American outdoor adventurer Eddie Bauer. He had nearly died of hypothermia during a hazardous fishing trip. On his return to health, Bauer invented an outer jacket filled with goose feathers encased in a quilted fabric. Patented in 1940, the down jacket has evolved into the modern puffer jacket and has been successfully keeping wearers warm for more than 80 years.
Eddie Bauer was thinking only of warmth when he created his original down jacket, but a good coat should also be water-resistant.
Brands such as The North Face & Canada Goose are most famous for their iconic puffer jackets that can be worn on all occasions. Often, they are regarded as the gold standard of the puffer jacket.
We have taken inspiration from these brands as well as keeping you, the customer, in mind.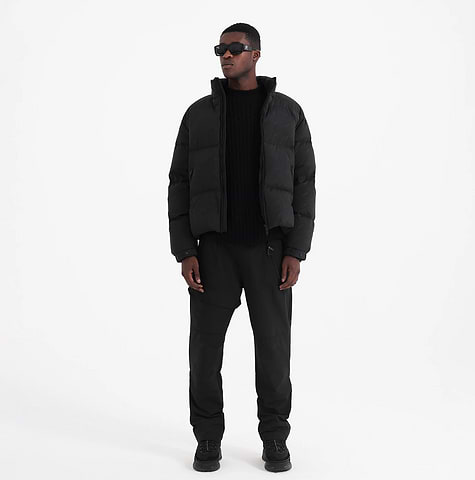 Designed For Cold And Wet Weather
As a UK-based brand, we are very familiar with cold and wet winters. For this reason, all of our puffer jackets come completely water-resistant. Unlike other jackets which may be bulky, our puffer jackets are sleek and lightweight, while still keeping you warm and dry.
In this blog, we will be looking at all the different types of puffer jackets we have to offer. Plus, we'll give you some ideas on how you can style them.
We've got puffer jackets with and without a hood, concealed hoods, parkers, and bomber styles. They're all available in a range of neutral colours designed to complement whatever you're wearing.
Whether you need to stay warm in freezing temperatures or are just looking to upgrade your outerwear, we've got you covered. Our range of different winter fits will keep you feeling warm and looking cool through these winter months. Take a look at the options below and find the best puffer jacket for you.
Puffer Jacket
Every man needs a good jacket in his wardrobe and a high-quality puffer jacket is perfect for cold days and wet conditions.
Our best-selling puffer jacket is available in black, grey, frosted grey, and olive, giving you more styling options. We have recently added some new colourways as part of our FW22 collection, these colours include Brown, Wheat & an all over logo black colourway.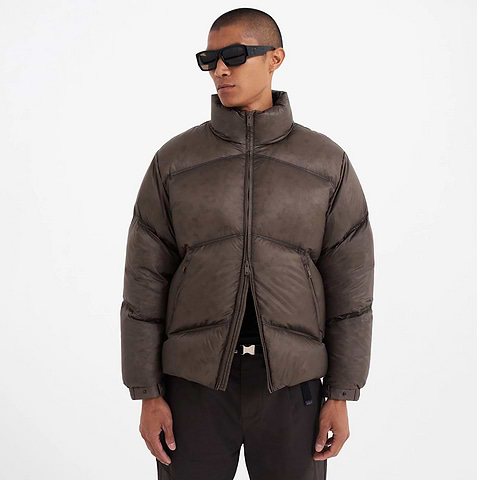 Oversized and slightly cropped, the classic puffer features a zip closure and high collar with a pack-away hood inside. The outer shell and lining are both 100% nylon, making the jacket incredibly lightweight as well as offering a high level of water resistance.
That's not to say it's flimsy or won't keep you warm. This is a genuine duck-down jacket, with a duck feather and down filling. It is designed to help you retain body heat and keep out the cold.
An elastic drawstring in the hem means you can wear it even closer to the body, and the inner sleeves feature jersey cuffs for extra insulation and comfort. There are zip-front pockets to the front, and the jacket is finished with a discreet logo on the back, between the shoulders.
We don't know if it's our best puffer jacket, that's up to you to decide. We do know it's one of our biggest sellers.
Hooded Puffer Jacket
If you are looking for a heavy-duty coat, our hooded puffer jacket may well fit the bill. Available in matte black, onyx black, or vapour grey, this all-weather down jacket offers comfort and warmth in a stylish, water-repellent package. Filled with genuine duck down, including the adjustable hood, the coat features a nylon outer layer and a smooth glossy lining.
The built-in hood means that whether you're walking in light rain, or get caught in a storm, you can expect to stay warm and dry. You can adjust it to your perfect fit using the toggle at the back.
Cut slightly cropped, the jacket fastens with a double-headed zip-front closure. Zip hand pockets finish the look, and there's an internal chest pocket to the left that is also zipped.
Style it with our Represent Owners Club sweater or a graphic tee and 247 pant for a relaxed look.
Puffer Parka
If you prefer something a little bit different, please allow us to present the puffer parka.
Combining two trends from the recent 1990s fashion revival, the puffer parka is the rockstar of men's puffer jackets. Our black matte oversized puffer jacket is filled with genuine duck-down for staying warm in the winter. The nylon outer shell is water-resistant and complemented by a smooth glossy lining. The built-in hood is perfect for wet weather. Sitting a little bit lower on the legs than most of our puffer coats, the jacket is designed to keep your whole body warm.
The puffer parker fastens with a tonal double-headed zip and there are zip fastening hand pockets. You'll also find hidden zip pockets to the inside and the chest for comfort and convenience. The Represent logo is debossed across the back between the shoulders for that extra touch of style.
Perfect for everyday wear, this versatile puffer coat can be worn with casual streetwear or used to dress down a smarter look. Keep it tonal with our Blank t-shirt or hoodie in black and 247 everyday pant. Our Reptor Lows will ensure you're well-heeled.
Puffer Bomber
Bomber jackets have always had a cool, slightly retro vibe. From 1950s icons such as James Dean and Marlon Brando to Ryan Gosling's stuntman/getaway driver in 2011's Drive, the bomber jacket is a staple of the 'rebel' wardrobe, with or without a cause.
Our puffer bomber jacket retains the cool factor while offering warmth and water resistance. A real down jacket - the nylon lining is filled with duck feather down to help you retain body heat, it will take you from late fall through the bleak mid-winter.
The nylon shell features a double-headed zip front closure and zip front pockets. The padding forms a winged design, rather than the typical squares, in keeping with the vintage feel. A ribbed half elastic collar and cuffs keep the silhouette clean while maximizing comfort. The logo is displayed on the back of the shoulders to finish the look.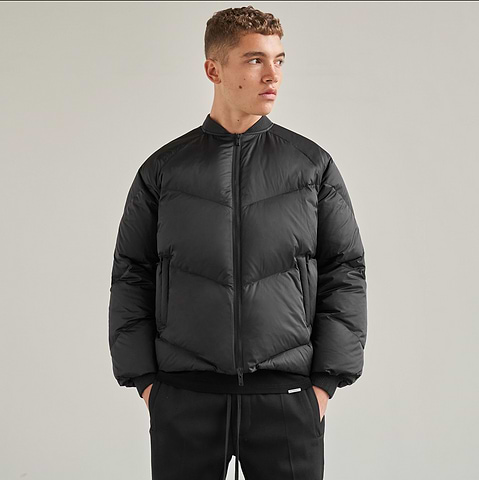 Available in black or dark gull grey, the bomber jacket can be worn with tonal denim, such as our Carpenter denim, and a plain black or white t-shirt. Alternatively, pair it with tailored track pants and one of our Represent Owners Club hoodies. Complete the outfit with Harrier trainers or our Alpha Low vintage white kicks.
247 Puffer
The 247 range offers functional and stylish designs. Built along clean lines, each piece is created to move seamlessly from active to casual wear.
The 247 puffer jacket is a durable, water-repellent piece of outerwear. The outer layer is a super stretch nylon shell with a two-way front zipper. A zipper guard prevents irritation. There are secure zip-pockets at the front of the garment and an additional inner zip pocket.
We know that shoppers are becoming more conscious about what they buy and how products are made. For vegan shoppers, that can provide a challenge. That's why our 247 puffer offers an eco-friendly alternative. An eco-down filling acts as synthetic insulation, helping you retain body heat to stay warm. The jacket is also lined in nylon, maintaining breathability.
The stand collar and half elastic cuffs protect against windchill, keep you warm all winter long.
Form-fitting to create a clean silhouette, the coat also has an adjustable hem for a customized fit.
The branding is tonal and discreet, displayed on the chest and arm, with the 247 logo sitting at the base of the back of the neck.
Our eco-friendly 247 puffer jacket can be worn with any items from the 247 range. We recommend the 247 Mission Pant and 247 Techne Gilet, with a plain tee. The 247 beanie in black will keep your head warm in the cold and top off the look to perfection.
Puffer Vests & Gilets
Not in the market for a new coat but still want to keep warm in freezing temperatures? Take a look at our stylish puffer vests and puffer gilets.
Using the same nylon and duck down technology as our puffer jackets, these vests and gilets are made to be worn over heavier pieces such as our Blanks and Owners Club hoodies.
Both the puffer vests and gilets can be worn as a mid-layer under a coat or as outerwear in place of a jacket. The nylon shell makes both garments water-resistant while adding warmth in the winter. In sub-zero temperatures, you need as much insulation as possible. That's why our puffer vests and gilets will also fit under one of our best puffer jackets.
Puffer Vests
The puffer vests are slightly cropped and feature a Cobrax popper front closure and zip hand pockets. Dropped armholes and front neck allow you to layer up without compromising your comfort or mobility. They come in black or brown and can be worn with jeans, a t-shirt, and hoodie or the 247 everyday pant. Try pairing with one of our graphic t-shirts for an effortlessly contemporary look.
Puffer Gilets
Our puffer gilet body warmers are slightly cropped with a nylon outer shell and a genuine duck-down filling. A high collar and zip front closure are designed to keep the cold out and the puffer gilet is water-resistant too. Zip hand pockets and a logo between the shoulders finish the look. Available in frosted grey and matte black, the puffer gilet works an ideal mid-layer or can be paired with a simple hoodie and Apex trainers for a sporty look.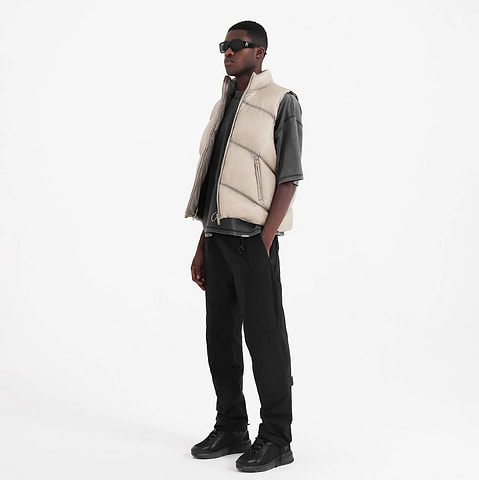 These are some of the best puffer jackets for men we have to offer, you can shop the whole collection here. Each puffer jacket offers a different look, but all are elite examples of winter outerwear. We have genuine duck-down jackets and others that use synthetic insulation. Whatever your style, there's a puffer jacket for you. Make sure you keep your eye out on the blog for more top selections and styling tips. 
If you're looking for another great jacket then why not have a look at a varsity jacket or leather jacket. If you're looking for the best legwear to pair with your new puffer, then check out our range of carpenter jeans and cargo pants.
If you are looking to purchase any of our puffer jackets in the meantime, you can now do so risk-free, by paying through Klarna, Clearpay, or another of our new payment gateways on site.
With free shipping in the UK and free express shipping on all orders over $400 elsewhere, there's never been a better time to get your winter fits. Now is the best time to shop at Represent.