As the Summer months are soon upon us, you may be considering starting to start running. Whether a seasoned athlete or a casual jogger, you want to make sure that you have all the gear to optimise and get the most out of your runs. This article will explain what features you should look for in running tops, as well as suggest a few of the best running tops from our 247 range which you may want to try.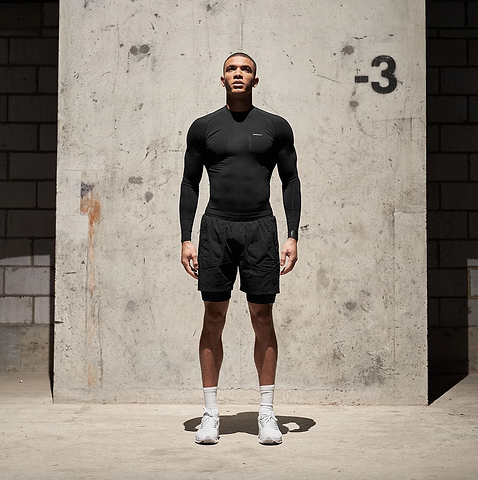 Best Features of Running Tops
When looking for the best running top for you, the first thing you should always look out for is sweat wicking material. Sweat wicking fibres work by absorbing sweat and redistributing it throughout the garment, allowing moisture to evaporate more efficiently, which keeps you cooler and more comfortable as you train. This will allow you to run more comfortably for longer.
Another feature you should always look for in running tops is 4-way stretch fabric. As you run, a lot of the power to maintain speed and pace comes from the upper body. Wearing a running top which allows you to have complete freedom of movement is therefore essential when going on long runs, doing hill sprints, or even a short jog. 
Fit is also an important aspect of running tops. Ideally you want a fit which you are comfortable in, however features such as a fitted neckline, and taped seams are always desirable attributes for running tops, as they ensure minimal irritation so that you can stay comfortable as you run.
Best Running Tops
247 Seamless T-Shirt
 The 247 Seamless T-Shirt ensures comfort from the base layer. It is crafted from lightweight fabric which ensures that you barely feel its presence as you run. The quick drying, anti bacterial finish of this running top is ideal for running in hot weather, keeping the top feeling fresh over time and wear after wear. Meanwhile, the 4 way stretch of the fabric allows complete freedom of movement as you run.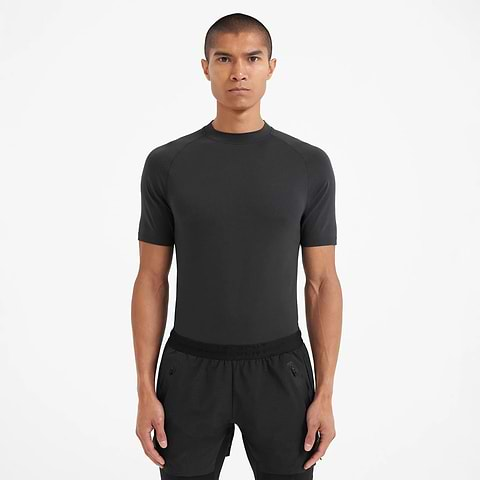 247 Compound Skin
The 247 Compound Skin is the first running top in our list. Built with a base layer fit, this top can be worn as either on its own, or as a layer underneath another top. The 247 Skin features flatlock stitching, which ensures maximal comfort and zero irritation regardless of the length or intensity of your run. It has 4-way stretch fabric which offers complete mobility for the wearer, so you don't lose any power from your upper body as you run. The fabric of the top is also cool touch and 100% sweat wicking, which helps optimise your body temperature to ensure maximum performance benefit. With quick drying capabilities, the 247 Compound Skin is designed to be able to be worn for long, short, or even multiple runs.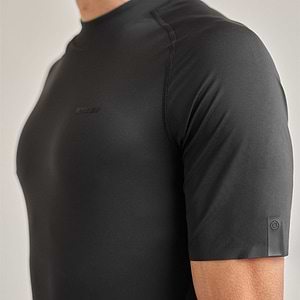 247 T-Shirt
The 247 T-Shirt is optimised for performance, with features which firmly place it amongst the best running tops for men. The top is crafted from soft touch, 4-way stretch matte fabric to maximize comfort whatever the activity. The 95% polyester, 5% elastane body also has active sweat wicking fibres to keep you cool whatever the temperature. The fitted neckline of the top also ensures anti-irritation whilst the raglan sleeves aid mobility through a full range of movement of the arms.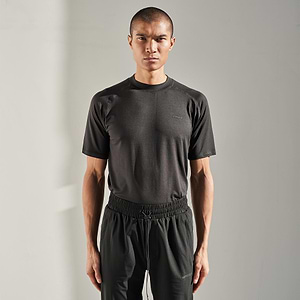 247 Zip Neck
If the weather is cooler, then you might want to wear something which provides more coverage and warmth. The 247 Zip Neck is a long sleeve top with all the features of the 247 T-Shirt. On top of these, the top has thumb hole cuffs, which provide you with more warmth in the hands and wrists, whilst also providing a secure fit. The close funnel neck also helps keep the neck warm, without coming so high that it causes irritation. It is the best top for men to wear whilst running in colder weather.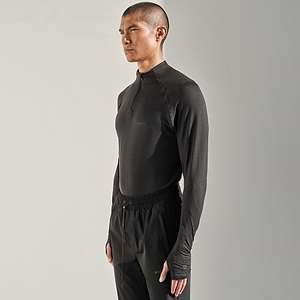 247 Techne Gilet 
Whilst not a traditional top, the 247 techne gilet lands itself a place in our best running tops for men due to its high functionality as a running garment. Created to be worn layered over your running top, the gilet was created with technical nylon fabrication and features a 2-way centre front zip for ease of removal. The body of the gilet features lightweight insulation for warmth, perfect for runs on cooler days. Other attributes of the gilet include a collarless design for anti-irritation, as well as water resistant fabric and an additional inner zip pocket for securing your valuables. 
Closing Thoughts
This article has explained what to look out for when wanting to buy the best running top for men. If you are looking for more workout gear, you may want to check out our full 247 range. Our 247 collection houses everything you need to optimise your workouts, whilst maintaining the Represent luxury aesthetic.
Whilst you're here, check out our gifts for runners.