In recent years we have endeavoured to create the best sunglasses for men. Previous collections featured sunglasses which instantly sold out online, however they didn't follow the brands traditional craftsmanship which would be found within our garments. For this reason in 2020 we decided to craft and engineer our first self-produced luxury eyewear line.
Our exclusive range of streetwear sunglasses are fully handmade in Italy and designed with style & quality in mind, just like any Represent product. With 100% UV protection, these are the best sunglasses for men to accompany any luxury look, especially during this summertime climate.  
In this blog, we will be looking at all the sunglasses shapes and styles we have created over the years, and how best suited they are to fit peoples face shapes.
Vertex

In 2021 we released our second self-produced range of sunglasses, titled the 'Vertex'. A one size fits all rectangular thick acetate frame in a narrow, bespoke frame. The frames are made with custom acetate and also feature our signature spirit angel logo embedded on the outer temple of the glasses. Our Vertex frames come in 5 different colours, they come in a standard classic black frame & black lense, suitable for all occasions & fits, we also have the rose tinted version with that black frame. A smoke grey colour with grey lenses that pair well with lighter coloured fits, we also have introduced a full brown colourway, a colour hard to come by in the sunglasses space & something we believe is unique to express your luxury fits. Lastly we have a fully clear colourway titled the "Ghost", this piece can be worn on all occasions and is the ultimate luxury statement piece.
The Vertex frame is extremely bespoke and as it is handcrafted in Italy it took months of refinement to get the finished piece. We strive for the best and our patience in creating such an iconic frame has allowed us to firmly believe that these are some of the best sunglasses on the market. All lenses are UVA/UVB protected, so you will have no fears whilst wearing these on a sunny day. Each pair is handmade in Italy and comes in extremely limited quantities.
The rectangular shape on the vertex is hard to pull off depending on your face shape, but it does suit some. The Vertex sunglasses would suit both oval and round face shapes the best. The wide range of colours we have of these shape, means that they pair well with every skin tone too.
Astral
The Astral Sunglasses are a modern take on a classic frame. Constructed with acetate and finished with the Represent logo to the temples. The thinner frames and handles allow for added comfort whilst wearing them, you basically can't feel you even have them on at times. The wayfarer styled glass shape also is very modern and an absolute classic style in the sunglasses world.
We have released the Astral sunglasses in a few colours, Black, Grey & Brown, probably the 3 most popular colours to have your sunglasses in. The Astral sunglasses would pair well with most face shapes, but not all of them. The classic styled frames work best with oval, oblong and round face shapes, and due to these sunglasses having a thinner frame, it pairs perfectly with all 3 face shapes.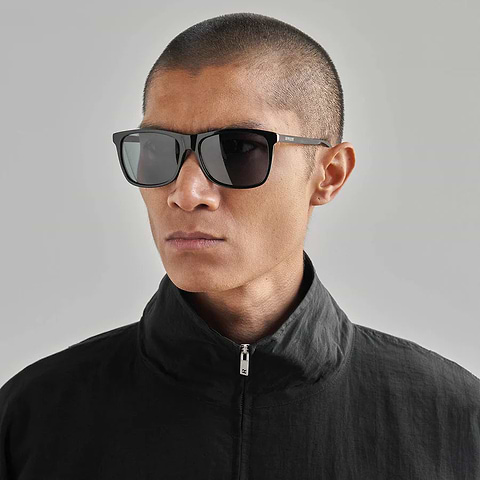 Initial Sunglasses
The Initial Sunglasses have a contemporary fit, with bold rectangular frames and widened arms embellished with the Represent Initial logo. They were released as part of our Summer 22 capsule and are the staple piece of the summer.
We released these sunglasses in a few different colours, you have the standard Black with Black tint, Black with Blue tint, Tortoise shell and Black with brown tint. These 4 colours weight heavy around Black with different tinted glass, depending how you want to style the glasses. All lenses are polarised so you get full protection from the sunlight.
The rectangular frames would suit both oval and round face shapes the best. The wide range of colours we have of these shape, means that they pair well with every skin tone too.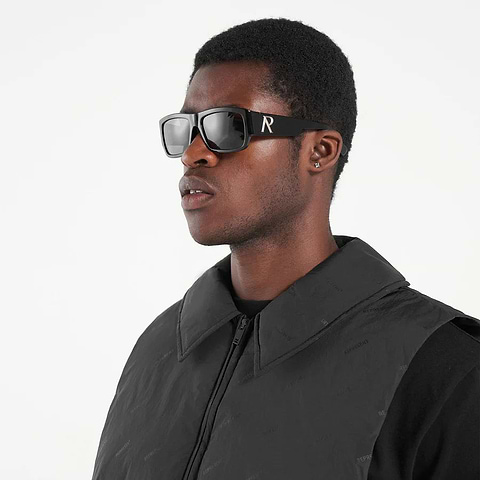 We believe our range of sunglasses are the best sunglasses for men. Many of our customers complete their look with our streetwear t-shirts & pants to get the ultimate luxury Represent look. Today we are investing dedicated R&D to find the evolution of our eyewear brand, so keep an eye out on our socials - Twitter, Facebook & Instagram.
A unique feature found within all our eyewear pieces is that the lenses can be adjusted to fit prescription lenses, so users can represent their favourite brand during all the seasons and carry their luxury streetwear look - ensuring everyone can experience the best sunglasses on the market.