Mark the 29th of June in your calendar, as we are about to bring the heat with our 2022 Summer Capsule. This capsule collection encompasses the summer mood, with contrasting light and dark tones, some brighter colours, new fits, without forgetting the usual silhouettes you would expect from us.
This article will give you a first in depth look at some of the hero pieces in this collection. So hold on tight as we're coming in hot.
Patron of the Club
The first piece to look out for is the Patron of the Club Shirt in Cream. This short sleeved shirt evokes the feeling of a warm summer's evening; designed to be worn layered over a thinner t-shirt or vest, the shirt provides coverage that'll shield you from no more than a light sea breeze. It fits slightly oversized, with a draping silhouette and elongated short sleeves, whilst the cream fabric with the stylised Patron of the Club branding to the chest and back sings laid back sophistication. The Patron of the Club Shirt will also be dropping in Black.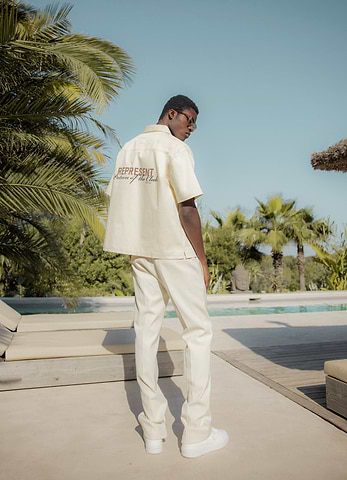 Alongside the overshirt, further additions to our Patron of the Club line include Shorts, dropping in Cream and Black; T-Shirts in Cream, Black and Teal; Sweaters in Black and Cream; Hoodies in Black, Cream and Teal; and lastly a Coach Jacket in Black.
All Over Swim Shorts
Also included in the capsule are the All Over Swim Shorts, coming in Black, Grey, Powder Blue and Brown. A Represent first, the swim shorts run relatively short to medium length. They feature low key branding running throughout the garment. The brown and grey colourways are a nod to subtlety whilst the powder blue and black are sure to pop wherever you wear them. They feature an elasticated waistband, full netting inner and side pockets to each leg.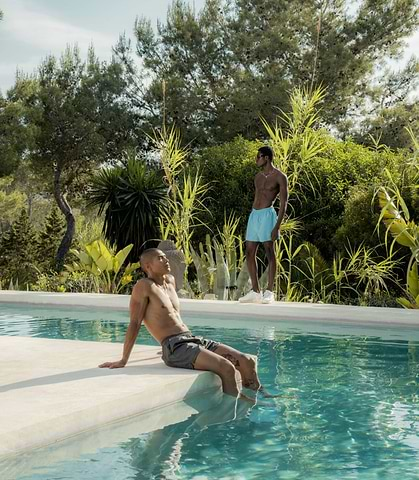 Track Set
Another notable mention in the line is the split track jacket and split track pant pairing, which is set to be your go-to summer daytime outfit. A plain black track set, this pairing runs with a single bold cream line down the side of the arm and the leg. The Track Jacket features a relatively slim fit with an elasticated waist and cuffs. It has a double front zip closure and zip hand pockets to each side. The accompanying Split Trackpant runs with a slim leg and feature our signature elongated zipped hem, allowing the garment to flow liberally over your footwear. 
Tailored Pant in Cream
Following releases in black, brown and grey, get ready for the Tailored Pant of Summer 2022, dropping in Cream. These trousers will have you feeling holiday ready with a relatively fitted leg and relaxed fit split hem, designed to be draped over the shoe.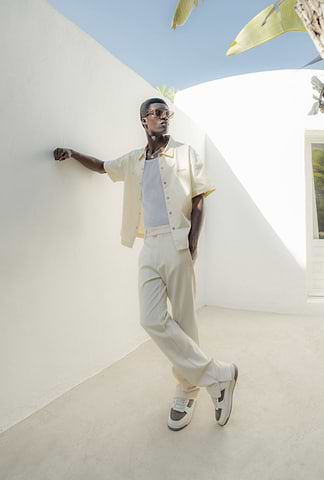 Graphics
If your go-to Rep piece is one of our signature graphic t-shirts, then you won't be disappointed with this drop. Three brand new designs in a range of colours are set to join the ranks of graphics royalty. Entitled the Chrome Spirit, Wish You Wern't Here, and Every Rose T-Shirts, you're not going to want to sleep on these.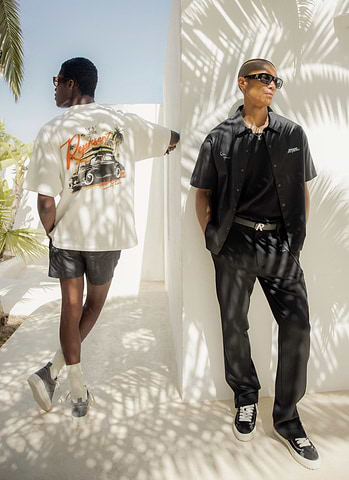 Footwear, Accessories and more...
This year's Summer Capsule is set to hit harder than ever before. In addition to the pieces described in this article, we shall also be dropping our Initial Sunglasses, a fresh take on Tote and Cross Body Bags, as well as Powder Blue and Mocha colourways of our bestselling Apex sneaker. There is plenty more currently under wraps which you will want to get your hands on, with over 50 pieces altogether in the collection.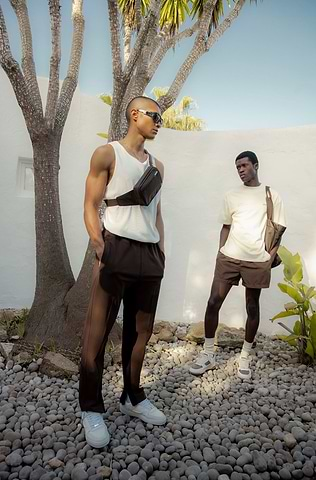 The Summer Capsule drops at 8pm BST on 29/06/2022. Be Ready.