On Sunday the 2nd of April, 247 Athlete William Goodge will embark on the challenge to become the fastest Englishman to run across America. The best part of this monumental event is that it is all in the name of charity; William hopes to raise a total of £500,000 for Macmillan Cancer Support in the UK and The American Cancer Society in the US.
The Mission
The journey begins in Huntington Beach, California, and will see William run 50 miles per day for 64 consecutive days. He shall complete the relentless endeavour on June 4th in New York City. The total distance? 3,175 miles.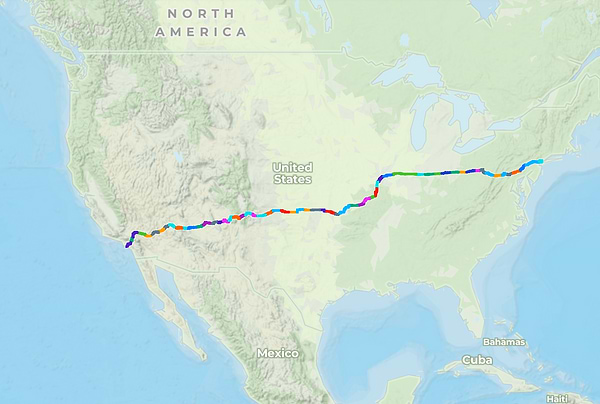 The Cause
William shall be running his race in memory of his mother, Mandy. Mandy passed in January 2018 from Non-Hodgkin Lymphoma Cancer, since which William has raised more than £100,000 for charity in previous athletic undertakings. In the past 4 years alone, William has pushed himself beyond the limits by running the length of the UK, completing 48 marathons in 30 days, becoming the first person to run the 104 mile radius of Lake Como, and completing the Marathon Des Sables (commonly regarded as the most difficult ultramarathon in the world).
247
William Goodge embodies The Unbeatable Spirit. At Represent, we wanted to support both the colossal effort and truly noble cause. We have kitted William out with the best running apparel in the world; pieces from our existing 247 Run range, including the 247 Run Tank and Shorts, as well as custom unreleased development pieces. There is no better testing environment than this.
Donate
If you would also like to donate to William's incredible cause, then you can do so through the following GoFundMe page: https://www.gofundme.com/f/wills-run-across-america-for-cancer