Wearing the right workout top can be a make or break for optimising your performance in the gym. As you lift, run, move and sweat, you need a gym top that works alongside your body; one that'll complement your innate thermo-regulation mechanisms, move with your muscle activations, and buffer the less-than-pleasant smells that come with inevitable sweating.
These are all things that you may not have considered before when refreshing your collection of gym tops and lightweight shirts, but you definitely should. This article will present the 4 best gym tops for men. It will break them down, explaining their features and how these can help maximize every gym session.
Best Gym Tops for Men
Best Overall Gym Top
The 247 Essential T-Shirt is the best overall gym top. Crafted from a lightweight and breathable micro-nylon blend it is fully optimised to work with your body's own cooling mechanisms when things get tough as you train.
This regular fit gym top features 4-way stretch fabric, which moves with you as you train, ensuring complete freedom of movement across key mobile areas such as the shoulders and torso. The fabric is also quick-drying and has an antibacterial finish to maintain freshness throughout the full duration of your workouts. This also prevents the build up of bacteria which thrives in sweat, ensuring a box-fresh feel with every wear.
The 247 Essential T-Shirt is available in Black, Flat White, Plum, and Dark Oak.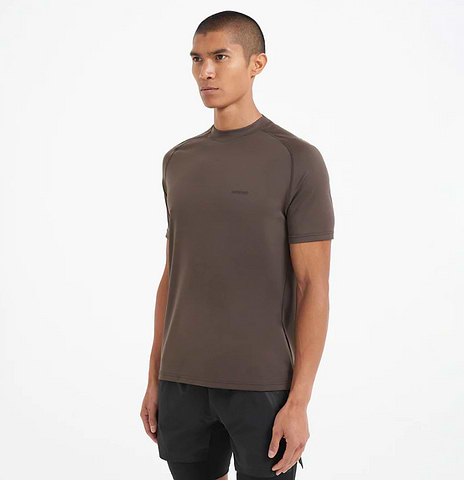 Best Oversized Gym Top
If a form fitting gym top isn't for you, you may prefer our Team 247 Oversized T-Shirt. Coming in Black, Dark Oak, Flat White, Plum and Cobalt, it has breathable and cooling fabrics to keep you feeling comfortable over the course of your workouts. With a lightweight and breathable construction and 4-way stretch, the Team 247 Oversized T-Shirt drapes over the body, maintaining a lighter-than-air feel without absorbing sweat. It also has our anti-bacterial finish to maintain freshness with every wear. 
You can also now become part of 'Team 247', with branding to the chest and back of this oversized t-shirt.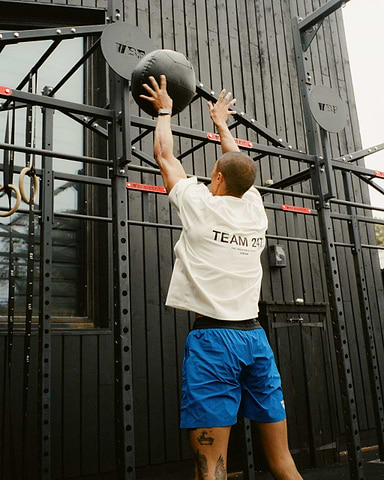 Best Gym Top for Colder Temperatures
As the months roll on, colder weather is starting to loom and you may be looking for a bit more coverage as you go to the gym. Introducing the 247 Training Zip Neck, a long sleeved gym top that takes into account every workout possibility. As with all of our training gear, this zip neck features 4-way stretch fabric to allow you to move freely, whatever the exercise. With thumbholes to the cuff, the zip neck maintains a comfort-first fit, and the ice cool nylon and spandex blend construction optimises your body's thermo-regulation capabilities.
The 247 Training Zip Neck is available in Black and Dark Oak.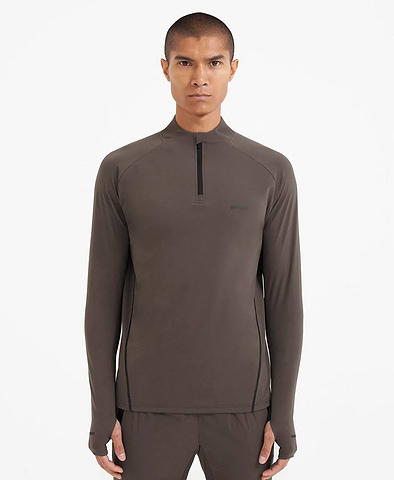 Best Gym Top for Warmer Temperatures
If you run as a particularly warm person, or perhaps your gym AC isn't performing at its best, you might be looking for a gym top to help negate the compromising effects of being too warm. The 247 Essential Oversized T-Shirt in Black offers a lightweight and breathable construction with its micro-nylon blend, which works with your body's cooling mechanisms as you train. The flowing nature of the oversized fit means both uncompromised freedom of movement, and also allows more airflow between your skin and the lightweight gym top. It features subtle rubber branding to the chest and back.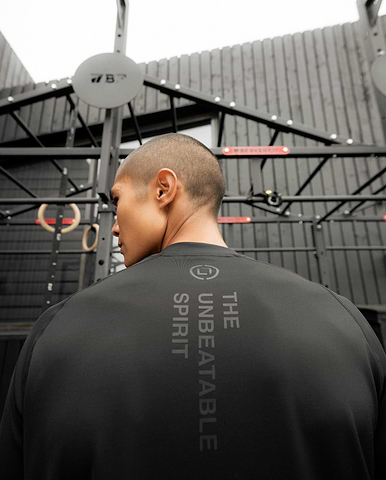 Be sure to check out our full 247 range for all your workout gear needs.