INSIDE REP | ABOUT OUR BLANKS RANGE
We've decided that we want to release exclusive content on our site that gives our Rep fans an insight into what happens at Represent and the time, effort, perfectionism, refinement and innovation that goes into both the brand and our garments.
This blog series is titled 'INSIDE REP' for that exact reason. The first piece in this series is an interview with our Co-Owner George. George, along with his brother (and Co-owner) Mike on how they drive the brand in its vision, design and style, whilst overlooking everything from in-house fittings to creating unique graphics or new silhouettes.
We talk to George about what inspired our Blanks collection and what are the most important aspects in creating a capsule like this. We also get his views on his favourite pieces and what's to come from Blanks in the future.
Q: WHAT INSPIRED THE BLANKS RANGE?
The blanks collection came from years of building the fundamental jersey blocks that we now call timeless, or perennial. We wanted to re-imagine and re-design these pieces and introduce a set category which is clean and composed with a monochromatic palette, relevant for all looks and occasions. Our previous collections and high focus on jersey recently saw the increased demand for the line to be created in a more simple format.
Through washing, printing and embroidering onto jersey, we saw a clear path to creating this collection at a more accessible price point compared to our mainline, but keeping in line  with the quality, fabrication and manufacturing that is core to everything we do. We have identified the need for sustainable, reusable and longer life apparel in our market, a blanks palette is our first step in providing the market with a 'go to' product that is ageless. In the next few months we are looking to switch to organic cottons to further represent our stance on the matter.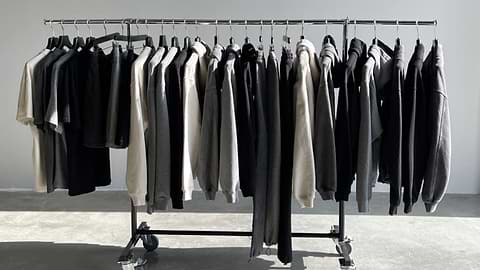 Q: WHAT WAS THE MAIN FOCUS?
With the Blanks collection, we set out to accomplish a flow of tried and tested blocks, at the best quality possible, across both solid and vintage washed colourways, with an ability for the consumer to purchase bundles. 
For us, quality, fit and detail are the main aspects of every piece we create. These are the fundamentals for Represent.  Finding the right wash, hand feel and palette come closely behind to develop this collection.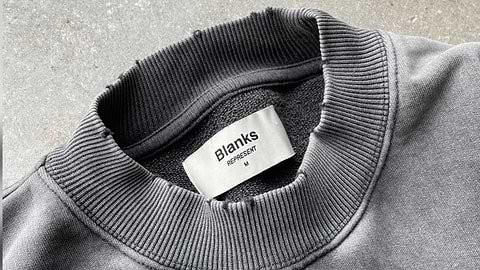 Q: HOW ARE OUR BLANKS CREATED?
Creating our Blanks range isn't too different from our traditional graphics or any other apparel we release, as everything we do is extensive and meticulous. What we wanted to ensure with this collection is that the cottons and fit of the garment were soft, premium and comfy - as it was crucial to us that this was everyone's new minimalist essential.
With this being said, the journey to releasing the capsule was much longer than a traditional release, with constant tweaks taking place through several in-house fittings and adjustments required within the samples we received. Like anything Rep, we will never release anything unless we are proud of it. We are now at this place.
Q: HOW DID YOU DECIDE WHAT TO INCLUDE?
Tried and tested monochromatic colours set the first collection, these are fundamentally our best selling pieces, and although it's simple, the vintage washes are unique, and very familiarised globally as Represent. Once the first collection launched, and the foreseeable value of the collection being consistently added throughout the years to come, we then moved into more colourful palettes, and added pieces. 
These garments currently in this collection are essential to Represent, and provide the silhouettes that have become our brand image over the years. Each piece has an ability to be styled with another product, or alongside tonal blanks pieces. Jersey at the core, this collection will increase with the introduction of track jackets and half zips toward 2022.
Q: WHAT IS YOUR FAVOURITE PIECE IN THE COLLECTION?
My favourite piece has to be the Bomber Jacket, it requires a lot of work to create a vintage washed jersey outerwear piece lined with a silky cupro and finished with RiRi hardware.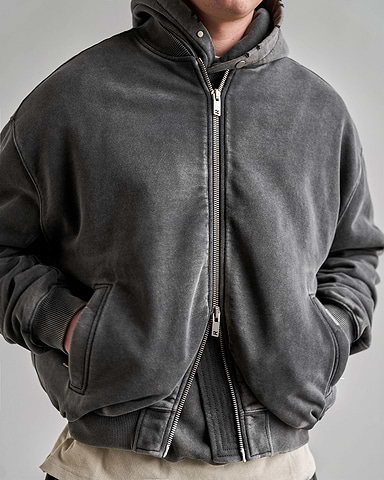 Q: HOW DO YOU WEAR YOUR BLANKS?
I like to pair the Blank Sweater in Jet Black with Denim, with the high neck giving a smarter approach to a relaxed outfit.  For a comfy everyday fit I go with the Blank Hoodie in Jet Black with the 247 pant.
Q: IS THERE MORE TO COME FROM BLANKS?
In May we will launch the Spring Summer 21 Blanks, which will see a lighter palette of washes and block colours throughout the pieces.