INSIDE REP | ABOUT 247
In our second instalment of 'INSIDE REP' we again talk with George and gain insight into what inspired our groundbreaking 247 collection. George discusses the process of designing and creating the garment and what we can expect from the 247 collection in the future.
WHY DID WE INTRODUCE THE 247 COLLECTION?
The 247 collection was created through identifying a gap that we as designers, workers, gym-goers and outside explorers felt a need for. Our goal was to create a product category that would fit all of the mentioned fields, whilst maintaining minimalism and essentialism, without categorising one particular subcategory. Something personal to our lifestyles.
The idea had been in my mind for 12-months prior to the first pant release, I was forever looking for a pant I'd wear to the gym, then to work, then to an outdoor hike, then for relaxing in, as I was forever switching my clothes. The pant is made to work with all of these areas, and so will the full collection which follows.
WHERE DID THE NAME 247 COME FROM?
The name came from exactly what this collection stands for, being constant, being forever, being for all use.
IS THE 247 COLLECTION AN ATHLEISURE EXTENSION OF THE REPRESENT BRAND?
It is, and it isn't. Like I mentioned above, there is no set field for it's agenda. This isn't solely made for being inside a gym, or hiking, it's to cover all, with a Represent aesthetic. 
DOES THE 247 COLLECTION AND BLANKS COLLECTION SEE SIMILARITIES WITHIN ITS MINIMALIST APPROACH?
It really does, as both collections are an extension of the mainline, they also blend perfectly. Essential minimalism plays it's part within the collections. 
WHAT IS AT THE HEART OF THE 247 COLLECTION?
The compounding of durability, stretchability and breathability for active performance is displayed through sweat-wicking materials. Those factors accompanied by a more refined fit and a minimalistic approach to branding completes the first collection.
HOW WAS THE FIRST PAIR OF 247 PANTS MADE?
The first pant came from our Military Pant Silhouette, we slimmed the leg and changed the openings, then adjusted the cargo pockets and took out the complex details, whilst sourcing what is an Italian 4 way stretch nylon that compounds sweat wicking, breathability and water resistance. 
This process took around 6 months to get the pant to the exact fit that would work for all shapes and sizes. It was only at the last stage where we added a cord adjuster so the pant could be tapered at the ankle by preference, we did this because I'd tuck them into my socks when working out. So we had to find a way to overcome that without ruining the aesthetic.
WHAT IS YOUR FAVOURITE COLOUR IN THE 247 PANT?
Personally Black, I only really wear black pants!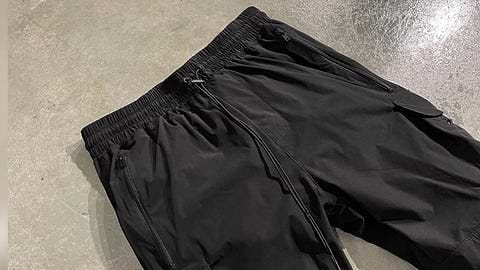 WHAT DO YOU WEAR WITH YOUR 247 APPAREL?
I like to mix it up with Blank sweats & hoodies, and a mainline overshirt, a pair of Alphas with the cord tightened, or Reptor lows with a relaxed opening. 
WHAT CAN BE EXPECT TO SEE IN THE COLLECTION GOING FORWARD?
The collection is about to expand into exacting core pieces. I didn't want to over develop, or develop product that I personally do not wear. The mission is to keep the collection small in size, but perfect in delivering absolute essentials to what the meaning of 247 really is. A mid April release will see this narrow focused expansion.
>> SHOP 247 COLLECTION <<