The Varsity Jacket is a recent comeback piece which doesn't look like it is going anywhere anytime soon. Originating from Harvard Baseball in 1865, it is probably one of the longest standing style statements ever created. 
This article will present a brief history of the Varsity jacket, following which it will showcase several ways that you can style a Varsity in order to maximise the aesthetic of your look.
The History of Varsity Jackets
The first Varsity style originated from Harvard Baseball in 1865, where the coaches wanted to find a way to distinguish their most valuable players from the rest. They began by having wool sweaters made with embroidered oversized H lettering to the chest. Those rewarded with one of these pieces later became known as 'Lettermen" which soon became a coveted title, motivating players to work harder in hopes of receiving a varsity sweater. Soon, the Letterman program made its way to the Harvard Football team, and all sports players within the college wanted to be welcomed to the exclusive club.
During the early 1900s, the letterman sweater became a jacket. The prestigious piece kept the wool body but added on leather sleeves. Throughout the years, the style maintained its connotations with sporting excellence, however the jacket became more of a fashion piece by the early 1950s, for both men and women. To this day, Varsity Jackets have remained a fashionable piece, but over the last couple of years production has boomed, with brands adding their own twists to the template design, experimenting with colour, embroidery and fit.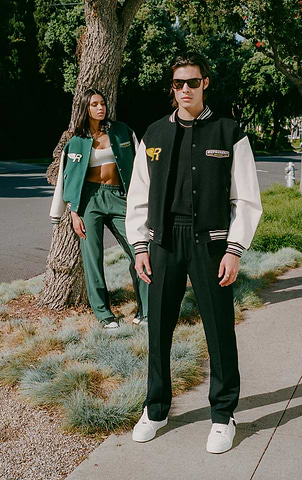 How to style Varsity Jackets
There are many ways to wear and style a Varsity Jacket; whilst it has athletic origins, there are many combinations which solidify it as a streetwear staple which can upgrade your fit. In many cases, you will probably want the varsity jacket to be the standout piece in your outfit, so experimenting with colour before you head out is a must in order to avoid clashes. You can also pair your jacket with different pant styles, t-shirt fits and even layer it over hoodies to create multiple aesthetics with a single jacket.
The Classic - Varsity Jacket with Black Jeans
Possibly the most versatile way to style your Varsity Jacket is with black jeans and a white t-shirt. As a fit on its own, the white tee and black jeans combo is impossible to get wrong, and can pretty much be worn for any casual to smart casual event or occasion. The addition of a varsity jacket, either in a monochromatic colour like black or in a more out-there colour like racing green, will upgrade your whole aesthetic by adding in the standout element.
The Sportsman - Varsity Jacket with Athleisure
With the Varsity jacket having its roots in athletic culture, it is only right that we include this look. Although the varsity is a piece which can be worn with more formal outfits, it is inherently an informal garment. Try pairing with some grey or pastel sweatpants for a laid back but innately fashionable aesthetic.
The Off Duty - Cargos and Cap
The Off-Duty look is an outfit which can be repped by anyone; it is low effort and versatile across a wide range of colour combinations. Styling a varsity jacket with cargo pants and a cap forms the ideal casual aesthetic for daywear when you want a relatively low effort but high impact outfit. Try adding one of our oversized graphic tees for a standout look.
The Layered Look - Varsity Jacket with Hoodie
Another minimal effort look, layering your varsity with a hoodie or graphic hoodie creates a laid back style. Try colour blocking here by contrasting the colour of your varsity with that of your hoodie; for example, if you have a black varsity jacket, then try pairing with a white hoodie for that extra pop.
The Smart Look - Varsity Jacket with Tailored Pants
Possibly the most impactful style in this list, pairing your varsity jacket with some black tailored pants and a tucked black or white tee creates an effortlessly cool and sophisticated look. If you want to really stand out, try pairing our racing green varsity jacket with some of our racing green tailored track pants for a standout yet sophisticatedly fashionable outfit.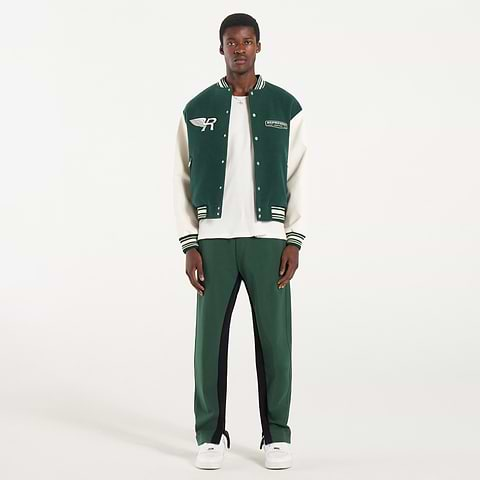 Closing Thoughts
A Varsity Jacket has come a long way from being exclusively for elite college sportsmen; it is now a great piece for anyone to add to their wardrobe. Not only is it incredibly versatile across a wide range of looks and outfits, it can also be styled for almost any occasion. If you're yet to pick one up, be sure to check out our full collection of Varsity Jackets.